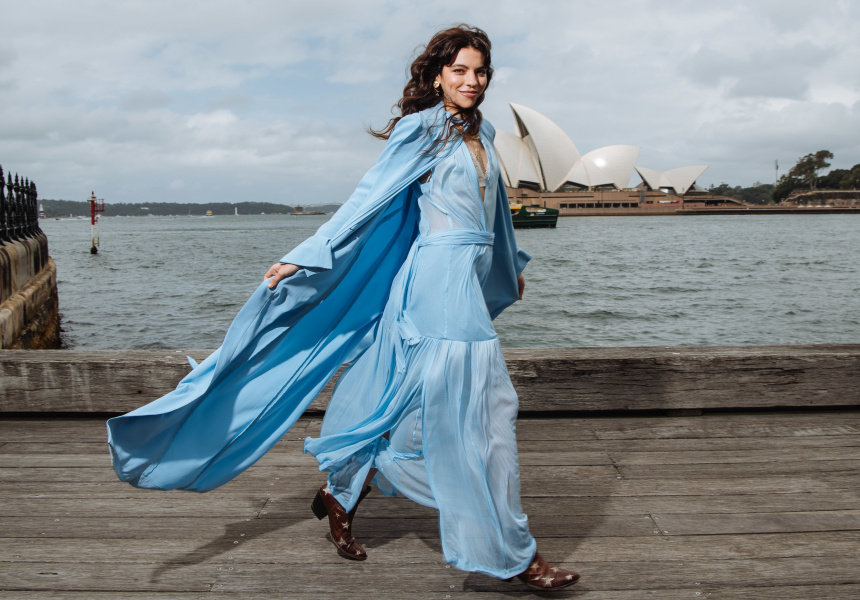 A singer-songwriter has become the first artist to film a music video atop the Sydney Harbor Bridge
Sydney-born singer-songwriter Azure Ryder scaled the dizzying heights of Sydney Harbor Bridge to record a music video for a beautiful rendition of Nina Simone's 1965 classic Feel good. The muso was filmed atop the bridge's south pylon, marking the first time someone has made a music video atop the bridge. (American DJ and producer Diplo played a set atop the arch itself in 2019.)
The song and video are part of NSW's latest tourism campaign, Feel New. The video begins in the Blue Mountains, deep in the Megalong Valley, before changing elevation to the cliff edge of Lincoln's Rock. Ryder performs in the basement of Mary's Underground at The Rocks before hitting the deck.
Local stylists Paula Joye and Cheryl Tan created Ryder's look, dressing her in clothing and jewelery from NSW designers including Kit Willow of Kitx, Nicola Finetti, Alice McCall, Sarah & Sebastian and By Charlotte.
"I am grateful to have participated in telling this story alongside the most incredibly talented humans who have lifted me to the height of my dreams," Ryder said in a statement. "We know we exist, but along the way I think we forgot how to live, so sharing this journey with you to the special places I grew up in NSW was important to me.
"We are so lucky to have such magic on our doorstep."
Watch the video clip here.