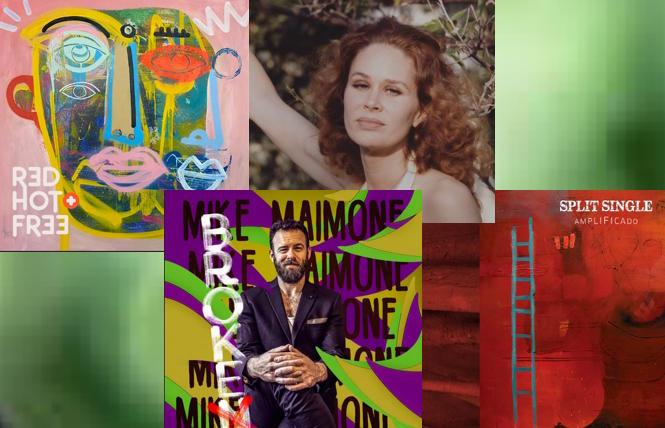 Bay Area Reporter :: Q-music: pushing the boundaries
The Red Hot organization, "a nonprofit dedicated to fighting AIDS through pop culture," has been releasing essential music compilations by a variety of artists for over 30 years, starting with /Hot Red + Blue. Over the years, Red Hot has focused on a multitude of genres including classical, indie rock, country, dance, rock in Spanish, alternative, Brazilian, jazz and more.
The double album Hot Red + Free, Red Hot's first feature film in five years, brings listeners and supporters back to the dance floor with 18 club-bangers on the roof. Known for its history of stimulating pairings, Red Hot does not disappoint with inspired collaborations from Sofi Tukker and Amadou & Mariam ("Mon Cheri") and Louis The Child and Foster The People ("Every Color"), among others.
Most important, Hot Red + Free features an impressive array of queer artists including Billy Porter ("Caught In The Middle"), Cakes da Killa ("Don Dada"), Casey Spooner ("I Love My Problems"), Tituss Burgess ("Dance MF") , Bright Light Bright Light ("Those Dreams"), and Sam Sparro ("Pressure"). www.redhot.org |
Gay and hot Nashville to Chicago singer / songwriter Mike Maimone, which some may remember from the group Mutts, continues his solo recording career with the exceptional Broken, not broken (8 eat8). The follow-up to the 2020 pandemic produces isolation: 001 and the superb cover record Borrowed Music, Vol. 1, the album features new voices and new mixes of some songs that appeared on Mainmone's The top hat club 2019 EP.
The sensational opening of the album "Work" deserves a hit, making Maimone a rich man. "FML" (aka "Fuck My Life") and "Garbougie" have what Maimone describes as "NOLA inspired instrumentation", and we couldn't have said it better ourselves. He's at his best Tom Waits-ian on the dazzling pain of "Through The Changes", while his mastery of the piano shines through on "Clear Black Night" and "Long Way Down". www.mikemaimone.com
You could argue that the next two albums are pushing the boundaries of queer playlists, but for good reason. The first is Dreaming of you (1971-1976) by the late actress Karen Black. A long-time staunch supporter of the LGBTQ + community, Oscar-nominated Black was originally cast as trans character Joanne in Robert Altman's Broadway production. Come back to the Five & Dime, Jimmy Dean, Jimmy Dean, a role she also played in the 1982 film adaptation of Altman alongside Cher.
Black and Altman previously worked together on the director's masterpiece in 1975 Nashville, in which the actor plays country singer Connie White. Black wrote the songs "Memphis" and "Rolling Stone", which she performed in the film.
Compiled and co-produced by freelance singer / songwriter Cass McCombs, Dreaming of you presents Black performing 15 originals and two covers (including "Question" by The Moody Blues). Unreleased so far, the songs offer a new perspective on Black's talent as a musical artist and while they feel like a time capsule, they are worth hearing, especially the cut title, "It All Turned Out The Way I Planned It," "Babe Oh Babe," "Thank God You're Mine" and "Wish I had known the man I thought you were". Anthology recordings
Another album that goes beyond the limits is by Jason Narducy, another valued ally and LGBTQ + supporter. Fans of modern gay rock legend Bob Mold may recognize Narducy as both a member of Mold's touring band (since 2005) and the recording band (since 2012). He even sang a duet with lesbian jazz artist Patricia Barber on his 1999 Companion album.
Narducy's own group Simple split returns with his third feature film, Amplified . You can hear the influence of Mold (who also worked with Narducy and Alison Chesley when they recorded under the name Verbow) immediately on songs such as "Blood Break Ground", "Stone Heart World", "Mangled Tusk "and" Worry, "which is meant as a compliment. The magnificent "Adrift" and the power pop of "Bitten By The Sound" are two breathtaking tracks. www.splitsinglemusic.com
Help the Bay Area Reporter keep going through these trying times. To support local, independent and LGBTQ journalism, consider become a BAR member.