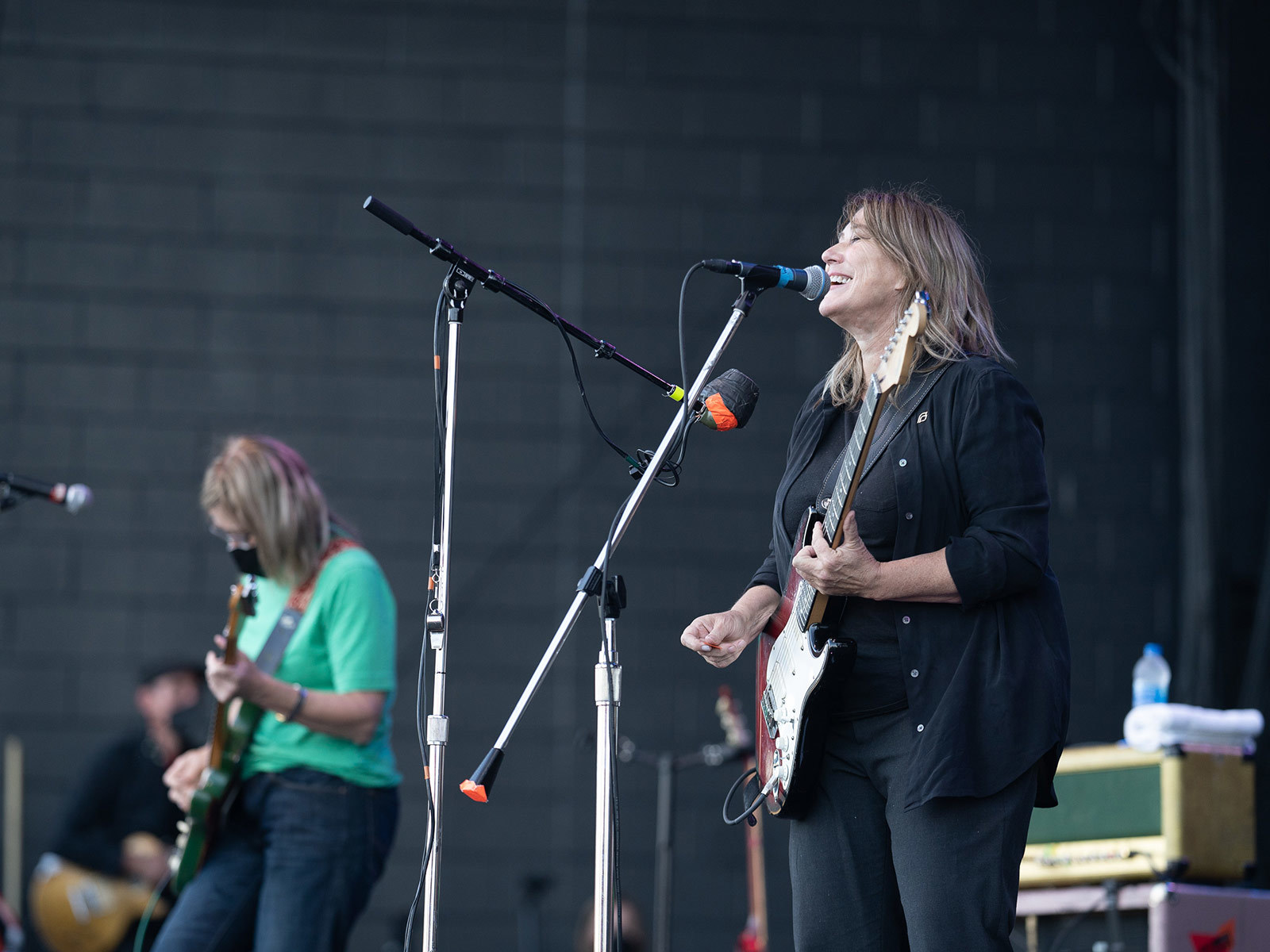 Breeder Festival Set Looks Old But New
Summerfest is obviously a great place to see bands that are already huge or up and coming, but one of the reasons the Big Gig is special to me is that every year it gives me the chance to see bands that I haven't never thought to see live – or relive.
Over the years, Summerfest has made me smile as much as its logo (or Don Smiley) with bands like Devo, Squeeze, Camper Van Beethoven, Digital Underground… the list goes on.
Tonight I finally got to see The Breeders, a staple of my college soundtrack, and in a way, a spinoff of one of my favorite bands, The Pixies.
Without going into their history too much, it's interesting. In a word, it's a great group that could have been much bigger. On Friday night at the Generac Power Stage, fans got a taste of that potential, wasted or realized, depending on who you ask.
Kim Deal has always been one of my favorite bass players, especially live, cigarette dangling as she stood almost disinterested onstage while Frank Black hollered his lyrics with The Pixies.
With the Breeders, Kim plays lead guitar and her twin sister Kelly also plays guitar, but occasionally bass, kneeling on stage alongside regular bassist Josephine Wings.
Kim still has a dreamy, languorous voice, and The Breeders gave her the opportunity to showcase it. Kelley is no slouch either, and in the early '90s, the Breeders' enchanting harmonies got off to a good start with their debut album, "Pod," in 1990.
But then, after their biggest hit, "Cannonball," on the excellent "Last Splash," Kelley got busted for heroin possession, and the Breeders came and went. Which is a shame, because some of the most influential artists of the 90s loved The Breeders (Kurt Cobain said "Pod" was one of his all-time favorite albums), and as they reformed with new members and were releasing two more records, the "classic" line-up released their first album since 1993, "All Nerve" in 2018. If you need a more modern benchmark for how well-respected this band is, they've also collaborated with Courtney Barnett. Another of my favorite bands, The Dandy Warhols, dedicated a song to Kim called "Cool As Kim Deal".
At 61, Kim and Kelley are still cool as hell, even without the cigarettes. And they both looked really happy…which made me happy too.
"Have you just arrived here?" Kim asked at the start of the show. No. We waited.
Keep in mind that Kim left The Pixies in 2013 (and even though this purist author had the chance to see them twice, I won't see a show that doesn't have Deal on bass), so you'll be sorry if you're assuming tonight's show was just a recycled reunion tour. After all, the Pixies did too, recombining in 2004 when they graced Milwaukee's new theater.
But even if you're right, there's no way to take anything of Breeders' quality out of it. Before every gig review, I review a band's music, even if I haven't heard it in a while. I had almost forgotten how much I enjoyed this band.
Their sound resembles the Pixies, but it is also more nasal, spatial and harmonic. Quiet and loud at the same time. Their new stuff doesn't sound that different from their old stuff either. It's both modern and retro. Totally feminine in a kind of 90s alternative rock, but also gritty and sometimes grungy too. Kim's crystal clear voice sounded a bit muddy at this show; it was hard to discern the lyrics to the songs that I didn't know well enough to provide a full setlist (sorry, fans) but I almost made it.
So it's no surprise that the Deal sisters attracted an older audience tonight (myself included). Imagine a lot of swaying and smiling during an 80 minute show that should have been after 7:30 p.m. And yes, the only people standing on the bleachers were probably the children of the first generation of Breeders fans, or maybe those waiting for the next Violent Femmes show.
You could tell that most of this audience didn't know all of their work, and although I listened to "Last Splash" a lot when it came out, I wasn't very familiar with their later music. So naturally, the crowd lit up when they played hits like "Cannonball" (involving a whistle) and "No Aloha," which they opened with. They covered the Beatles' "Happiness Is A Warm Gun" from "Pod", on the occasion of Sir Paul's 80th birthday. The lyrics "I need a fix because I'm going down" were prescient, given both offers' history with drug addiction.
And a lot of us got a Pixies shiver down our spines when they covered "Gigantic" (Kim took the bass out of that one, obviously) even though Kim Deal co-wrote and sang that song… so is it really a cover?
Oh, who cares?
"This is our first show before the video, so we're really excited to be here," Kim said towards the end of the show, and you could tell she really meant it.
Keep in mind that this is not a band that tours a lot. As the headliner, tonight's show was the first of a five-city tour of the Midwest this summer — so getting to see them in Milwaukee was special. They last played here at The Rave in 2018 (I had to reference an OnMilwaukee interview with Wiggs to figure this out), and before that they played Lallapalooza at the old Marcus Amphitheater in 1994. But the best I can say is for Brew City (the guy in front of me saw them at that gig in Lolla and helped me find the tracks I didn't recognize).
The banter was a bit sparse between songs, but not completely absent.
"I had a great day, saw your beautiful lake," Wiggs said. "I wanted to swim, but it didn't happen," Kim teased her British accent a few times, which was bizarre.
And, on a significant day in American history, Kim made a comment of Roe V. Wade: "This next song is an old, old song. This is an abortion," she said before launching into "Hellbound."
The rest of the show was just a cradle of soft sounds.
"It's a beautiful place," Kim said. "Thank you for receiving us."
And thank you Kim. Here's hoping if you're a Breeders fan you caught this show tonight, because who knows when they'll be back?
No Aloha
Saints
Invisible Man
Wait in the car
Skinhead #2
Hell
Iris
Happily gone
Of you
Happiness is a hot gun
Of you
Cannonball
I just want to hear myself
Do you love me now?
metagoth
Gigantic
Mary nervous
Oh!
Old witch
walk with a killer
strive for new
divine hammer