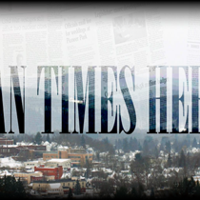 Concert for the benefit of the skate park, alternative educational activities | Archives
SALAMANCA — When not using the city's new skatepark, some local students wish they could learn more about art and music.
An event to benefit the skate park and music and art is being planned.
Salamanca Alternative High School, Salamanca Skate Park Committee, and New York State of Mind (retail venture involving alumnus) will perform a "Showcase of Bands" from 5:30 p.m. to 11 p.m. March 4 at the alternative school , 79 River St.
Local bands, including Salamanca High School graduates, will perform. They include Hello Star Vega, Awkward Silence, Zero Point One, Everything and You.
Bands volunteer their time to raise funds. Proceeds will be split between the skate park committee for other Sycamore Avenue park initiatives and the alternative school, whose staff will purchase art and music supplies.
Companions will be provided by the Skate Park Committee and Ryan Deppa of New York State of Mind. Local merchants also offered door prizes.
The all-ages event is one of many that alternative school staff are planning in their search for drug- and alcohol-free events, said Anne Marie Anderson, director of the alternative education program.
She said alternative education students will also go tubing in Allegany and are planning a trip to see a Buffalo Sabers hockey game.
"In an effort to broaden the activities, we wanted to involve activities in music and art," she said.
At the same time, she said, Deppa seeks to provide musical opportunities for local teenagers.
"We have combined our efforts to arrive at this evening," she said. If the evening is successful, she says, similar evenings are planned.
"It's also an opportunity for local musicians to have a place to perform," Anderson said.
Deppa could not be reached for comment on Friday.
Admission is $3 between 5:30 and 6:30 p.m. or $5 after 6:30 p.m. Security will be in effect.