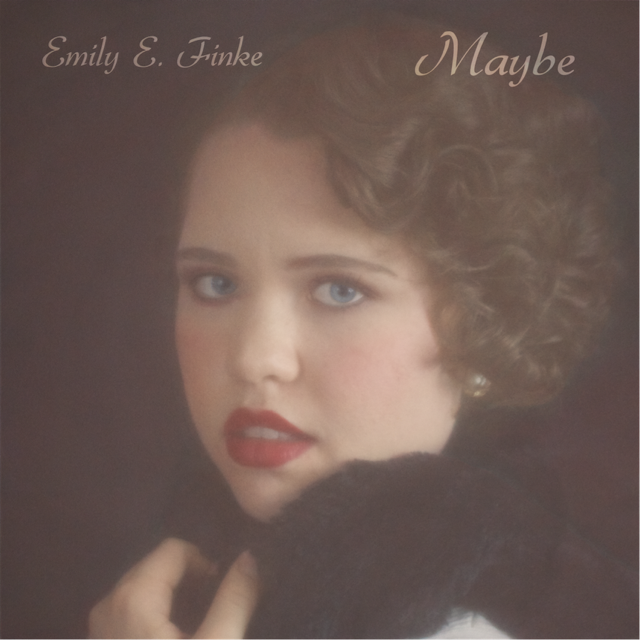 Do dreams come true? Local Songwriter Answers Age-Old Question With "Maybe"
Do dreams come true? Local Songwriter Answers Age-Old Question With "Maybe"
by James Coulter
Many songs are about making your dreams come true by wishing for a star or following the rainbow. But do dreams really come true? And what does it mean for a dream to come true? A local songwriter answers these questions in his new song, "Maybe".
Emily E. Finke uses her "rich mezzo-soprano voice" and "extraordinary songwriting talent" in her latest song, which she recorded in November and recently released earlier this month. Her song explores the subject of dreams and what it really means for them to come true. As its press release states, the song "takes the listener on an emotional journey of discovery to a place where '…dreams aren't always what they seem'".
"[Maybe] is a song about whether or not dreams come true, and what it means for dreams to come true, and how do we recognize when dreams come true," Finke said. "When we look at our dreams, do we really see our dreams? [It's] put things into perspective about whether we see our dreams clearly until they come true and do we recognize them when they do.
As with many of her songs, her inspiration doesn't come from one specific place or thing, but rather from the many random thoughts she has in her head at any given time. Writing music allows her to better focus her thoughts and boil them down into one cohesive message, she explained.
"My mind is very active and I'm constantly thinking about things and making connections between them," she said. "So even with this new song, it's not one thing that inspired her. There were a lot of things that kind of conglomerated with this feeling and these thoughts that I had about the subject of the song. It's the song I wrote because that's what I felt in my heart at the time. Different things happened in my own life. It was a lot of different things that culminated in some deep thoughts and feelings that I had.
Finke was born and raised in Lake Placid. She has lived all her life in the same house with her older sister. They were homeschooled from kindergarten through twelfth grade. Her interest in music began at the age of six when she started playing the violin and the guitar. She started singing at 16 and eventually learned to write and perform her own music. She even played in a country band.
"Honestly, looking back, it's [my love of music] was something God put on my heart," she said. "Since then it has been my whole life and I wouldn't want it any other way…. Whether it's a hobby or not or whether I do it for work or pleasure, I'm constantly involved in music, and always have been. a part of me."
After graduating from high school in 2017, Finke decided against pursuing a college education. Instead, she focused her time and energy on her music. The free time she has because of her decision has given her many opportunities that she would not otherwise have had to balance her interests with her studies.
Currently, she is a metzzo soprano who has performed opera in many venues including Carnegie Hall and the Sydney Opera House. Her favorite musical genre is Baroque, where her voice feels most at home in the vocal range.
When it comes to her songwriting, Finke was self-taught not only to write music, but also to perform, record, and mix on her own. To be able to combine so many disparate elements of his music into one song seems quite an accomplishment to him.
"I really like being able to write music and express myself," she said. "And I wouldn't have had the freedom to do all of that and I wouldn't have had the freedom to do that if I had been in college. And on top of that, I'm still taking voice lessons. I train very seriously in opera singing, and it's something I do full time.
Finke considers herself a "classic" woman. His musical inspirations come from early 20th century musicians like Bing Crosby, Dean Martin and Glenn Miller. Many of his own songs were heavily inspired by their styles, but they still retain a modern sound and feel that allows him to release them as pop songs.
"I haven't met another artist who makes music like mine," she said. "That's why I started writing my music: because I had a musical sound in my head that I wanted to bring out. So I started writing the parts of the different instruments, just to get that sound out of my head, physical [and] hold in my hand.
Like most musicians, Finke wants nothing more than to make a living from his music. However, although she has big dreams and aspirations regarding her musical career, she humbly follows wherever the Lord leads her in life. Ultimately, she is not just acting for herself, but to do God's will.
"I've always been very sensitive to following God's will in our lives and allowing him to lead me down the path he wants me to take to do the things he wants me to do," he said. she declared. "That's how I see success. I would absolutely love it if he gave me an audience to listen to my music, but even if it's just one person and it makes a difference in his life, I would consider that a success.
"Maybe" is available on most music streaming and download services. For more information, visit her website at: https://www.emilyefinke.com/epk