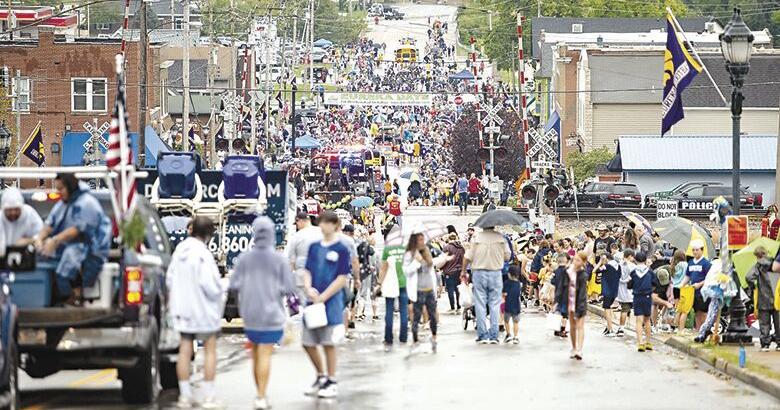 Eureka Days adds more fun to a three-day festival | Local events
Four new attractions have been added to this year's Eureka Days program, including a claw machine for children, a kickball tournament, a cornhole tournament and a home racing derby for first responders.
The three-day festival will be held from Friday September 30 to Sunday October 2.
Most events will take place at Legion and Lions parks, which are across from each other on Bald Hill Road. The festival is scheduled to be open from 5 p.m. to 11 p.m. on September 30, 11 a.m. to 11 p.m. on October 1, and noon to 6 p.m. on October 2.
Eureka Parks and Recreation Coordinator Lizzie Roberds said she's excited about the Kid Klaw, which will be open all three days at Lions Park. For the human-sized version of the classic arcade game, children will be strapped into a harness.
"It's a giant claw machine, but the kid is the claw," she said.
The kickball tournament is scheduled to begin at 6 p.m. on Sept. 30 at the Lions Park baseball diamonds.
Roberds said the tournament bracket can accommodate up to eight teams, each consisting of nine or 10 players. It costs $50 per team to participate, and teams can register by emailing Recreation Supervisor Luke Hollman at [email protected]
Roberds said the winning team of the double-elimination tournament will win a trophy.
"We're trying to find something fun to get people out (September 30) other than awesome music and carnival rides," Roberds said.
The cornhole tournament is scheduled to start at 1 p.m. on October 1 at Legion Park. The tournament can field a maximum of 25 two-person teams, who will compete for one of three trophies.
The tournament entry cost is $40 per team, and Bullie Bags Cornhole will oversee the event.
"We tried to do this last year, but it rained," said Eureka Parks and Recreation Director Kristin Christenson.
The First Responder Home Run Derby, sponsored by the Eureka Chamber of Commerce, debuts Oct. 2. Roberds said firefighters from the Eureka Fire Protection District and Eureka Police Officers will face off at the event, which is scheduled to take place from 2 p.m. to 5 p.m. at Lions Park.
"I'm interested to see how many home runs are hit," Roberds said.
Tradition
Christenson said she believes Eureka Days has been happening for over 30 years.
"It's a tradition," Christenson said. "It's been a long time and you look forward to it every year. I grew up here and it was the thing to do.
Roberds said she was excited about the new events, but several fan favorites, like the parade, carnival rides and chicken wing eating contest, are returning this year.
"It's so fun to see it all come together," she said. "It's been months and months of planning."
Roberds said she was not hoping for rain after part of the event was rainy last year.
"I'm doing what I can to make deals with the universe so this weekend goes off without a hitch," she said.
Roberds said the city had budgeted $63,000 for the three-day event.
Glass bottles, bicycles, scooters, rollerblades and tents are not permitted in the exhibition grounds.
Roberds said coolers are allowed, as are well-behaved dogs. However, dogs will not be allowed in the food vendor area.
Parade
The Eureka Days Parade will kick off October 1 events at 11 a.m.
"It will start on Central Avenue at Third Street and move south toward the freeway. 109," Roberts said.
Roberds said the parade will not turn onto Dreyer Avenue, as in previous years, but will continue down Central Avenue and end at the freeway. 109.
"We started last year and it worked really well," she said.
The theme for this year's parade is "Autumn Nights and Carnival Lights". Those wishing to participate in the parade can register at eurekadays.com.
Roberds said all parade entries will be required to hand out candy.
Mayor Sean Flower said his favorite part of the three-day event is the parade, which he plans to attend. He said he was excited to ride up and down the route several times this year as no COVID-19 orders are in place.
"It will be the first truly normal," he said. "I'm excited about it."
Other events
■ Steven Woolley & the Groove, who play country and rock 'n' roll music, will perform from 6pm to 10pm on September 30 on the Main Stage, just off Bald Hill Road opposite Lions Park.
■ Bubble bus, from 12 p.m. to 4 p.m. on October 1 at Lions Park.
■ The Teenage Dirtbags, performing '90s pop hits and alternative rock, will perform from 6-10 p.m. on October 1 on the Main Stage.
■ A fireworks show is scheduled to begin around 9:00 p.m. on October 1st. Roberds said the fireworks will be launched from Drewel Park, which is west of Lions Park.
■ Unspecific Railroad's Russ Wellington and Cody Goggin, who performed at a block party this year, will be back for a show from noon to 1:30 p.m. on October 2 in the beer garden. Wellington is a public works employee for the city. The duo are expected to play country, blues and rock and roll.
"They do an acoustic duo," Roberds said.
■ The fourth annual Chicken Wing Eating Contest will take place at 1:00 pm on October 2 on the Main Stage.
"I can't wait to do a lot better in the chicken wing eating contest," Roberds said. "I trained myself."
■ The group Out by 9, which plays rock music, will perform from 2 pm to 6 pm on October 2 on the main stage.
■ Roberds said L and S Barrel Rides will offer rides from noon to 4 p.m. Oct. 2 at the Lions Park Pavilion. She said children will be able to take a free ride through the fairgrounds on a barrel train.
■ Carnival rides will cost $1 each on October 2.
For more information, visit eurekadays.com.