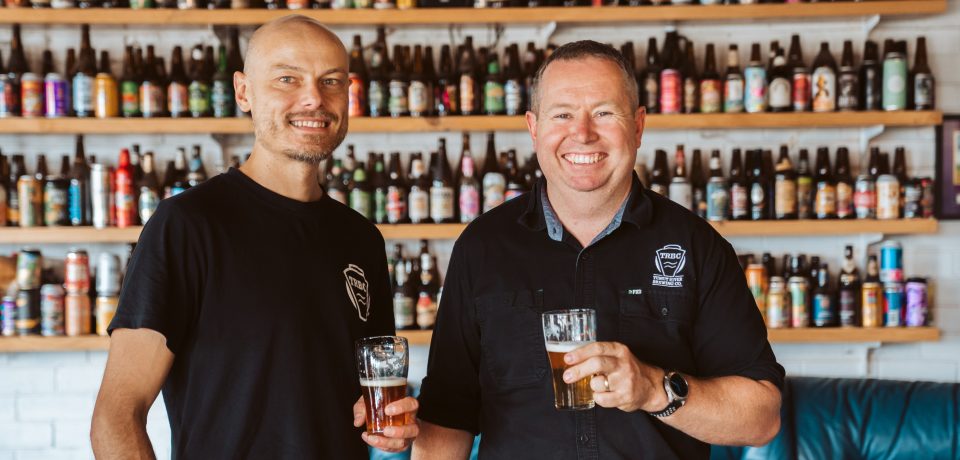 Local cuisine, independent beers and the return of live music at the Tumut River Brewing Co
Independent brewery Tumut River Brewing Co's tasty and creative beers draw crowds throughout the region. But they have another draw card as one of the area's favorite live music venues, attracting musicians from near and far to play in the beer shed.
On Sunday April 10 the brewery turns Tumut River Tap Dance Party – a scaled down version of their popular Tap Days festival with a line-up of musicians playing for a crowd of all ages.
---
READ ALSO: Five Minutes With Tim Martin, Tumut River Brewing Co
---
Brewery events manager Michael Cichocki says live music has always been a defining feature of the brewery. They hope to return to a regular live music schedule this year.
"We have a big sign on the side of the building that says 'beer, food, coffee, live music' and those are the four key things we wanted to focus on," he said. Regional Media.
"[This year we're hoping to have] something is happening at the brewery every weekend to continue building on what we started before it was interrupted by the bushfires and then COVID. So just try to get back to that and build it not just as a beer destination, but also as a live music destination.
Many concert venues have struggled during the pandemic and Michael says they are grateful to have received funding from the NSW Government to put on this event.
"Great Southern Nights is a great program trying to reinvigorate live music as it gets back on its feet in New South Wales. [It] allowed us to attract a live band to play on the day, which we wouldn't be able to do otherwise, so that's a good thing," he said.
Tumut River Brewing Co is becoming a true player in craft brewing. Their popular ginger beer 'Ginja Ninja' recently ranked number 92 on the GABS countdown of Australia's 100 hottest craft beers – a huge achievement for a small brewery.
The brewery has earned a reputation for creative and unusual beers and adventurous beer drinkers can expect a few new flavors on tap this weekend.
A Hot Cross Pilsner has been brewed as an Easter special and the popular Mango Sour is back.
"We are starting to enter this season when we slowly start to bring in darker beers as the weather gets colder…And, as always, there are a few guest beers from other regional breweries," says Michael.
The menu emphasizes local produce like Snowy Mountain smoked trout pizza. The chefs will serve up some surprise specials on the day from the newly remodeled kitchen and menu favorites like "amazeballs" macaroni and cheese balls.
The weekend lineup includes Kiama singer-songwriter Jess Crossman, Wollongong musician Corey Legge and Tumut local Andrew Wortes, who won't have to travel far to play at the brewery.
"Andrew works at the broom factory next door!" He plays music on the weekends and does a good mix of originals and covers," says Michael.

Alt-Country artist Riley Catherall will travel from Melbourne with a full band to perform at the event, bringing a taste of laid-back Americana to the brewery.
Michael says they aim for a cruise vibe where people can sit back, relax and enjoy the atmosphere.
"We want people to come together and help support live music and independent beer."
Weekly newsletter
We aggregate the most read About Regional articles from the past week and deliver them straight to your inbox every Thursday afternoon. Subscribing is the easiest way to follow, all in one go.
Tumut River Tap Fest is an event for all ages; children under 12 are free. Purchase tickets for the event through the Tumut River Brewing Co. website. Tumut River Brewing Co is open seven days a week at 1-5 Capper Street.
Original article published by Lucy Ridge on Riotact.