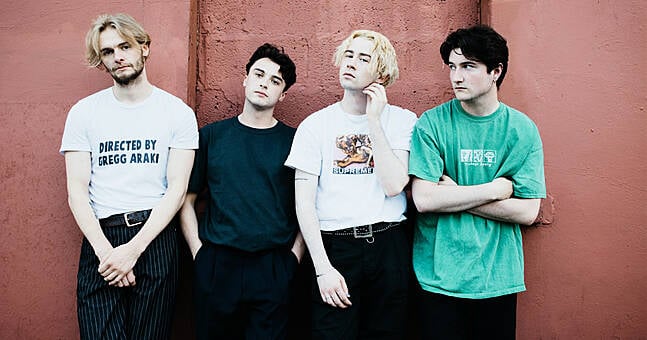 Louth outfit indie-pop modernlove. releases a new EP Oh My Mind
The rising quartet are back with a new EP, following their impressive debut last year monochrome blue.
After a flurry of singles over the past few months, including "Don't Wanna", "Us", "Follow You", "Islands" and most recently "familiar", Drogheda indie-pop-rockers modernlove. delivered their highly anticipated new EP Oh my mind through Akira Records.
Opening "Oh My Mind," the scintillating title track perfectly captures the rich and dynamic direction the band have explored throughout this new EP. Focusing on mental health issues that have arisen in a post-pandemic world, their new gem is a warm and inviting pop-rock delight that builds on their scintillating aesthetic to date. A playful video was shared to support the single.
"Oh my mind explores modern youth neuroses and the mental health challenges posed to them by pop culture, the internet and, more recently, coronavirus lockdowns," the group explains. "I think we've all gone a little crazy because of the lockdown and most of this EP was written in this state of social isolation. Without distraction or release from negative thought cycles, you can start spiraling to the point of derealization and being in a constant state of panic.
"But then we kind of juxtaposed that with a brighter, more playful soundtrack. I think as young people we tend to joke about our mental health as a way of relating to each other. others and not feeling so alone in it all seemed natural to write a pop, upbeat song about such dark themes rather than treat them with forced solemnity and formality."
modern love. will also embark on their first UK and Ireland tour in November later this year. The band added a new date at London's Camden Assembly on November 8, with their performance in Manchester being upgraded to YES! (Basement) now sold out. Tickets are available for purchase now.
Oh my mind follows their debut EP monochrome blue, which was released in September 2021, and saw modernlove. combine their early work into a first statement offering. With the singles 'Liquorice', '2 Missed Calls' and 'lmk (if you wanna see me)' they received strong playlist and radio support.
modern love. explore the complexities of modern twenty-something life; with Barry, Cian, Danny and Graham of Drogheda already nailing their sound. It's a world of refined indie pop sound with a brilliant '90s sheen and intricate detail.
Listen to modernlove's new EP. below.
2022 UK & Ireland Tour Dates:
UK
2 – Birmingham – Hare & Hounds
3 – Manchester – YES! (Basement) *** IMPROVED LOCATION ***
4 – Glasgow – The Garage (Attic Bar)
8 – London – Camden Assembly ***NEW DATE***
9 – Bristol – Louisiana
10 – London – Camden Assembly – SOLD OUT
11 – Leeds – Hyde Park Book Club
IRELAND
12 – Belfast, the stag's head
13 – Derry, at Sandino's
17 – Listowel, Mike Les Pies
18 – Limerick, Kasbah social club
19 – Liège, avenue Winthrop
24 – Galway, Roisin Dubh
25 – Dublin, button factory