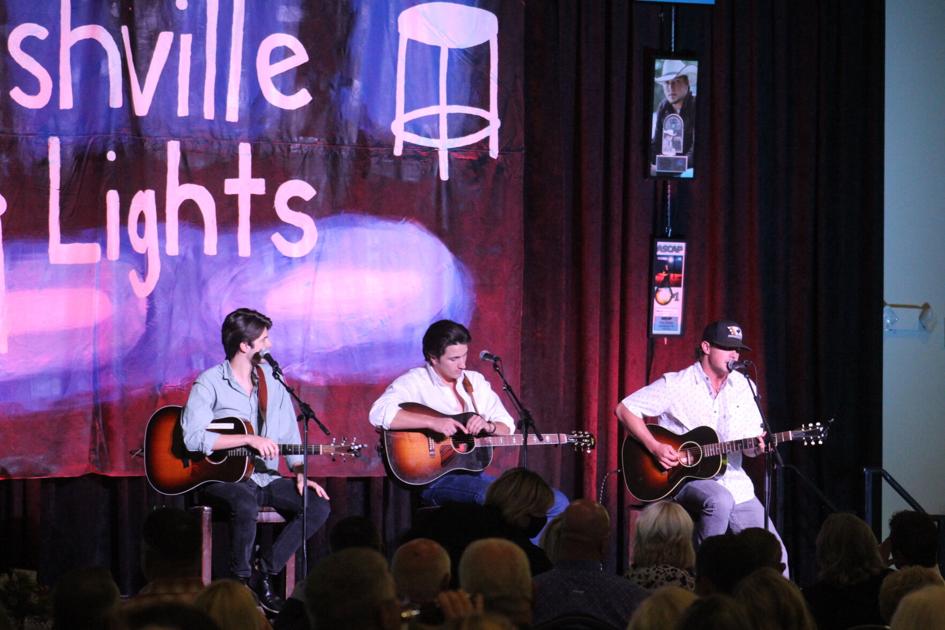 Nashville Lights returns; Annual singer-songwriter concert benefits Cleburne ISD | Local News
Nashville Lights returned to the Cleburne Conference Center Thursday night for the ninth but first time since 2019.
Organizers have canceled the planned 2020 edition due to COVID-19 issues.
From all appearances, they and the audience were thrilled to be back and eager to listen to live country western music in Nashville and Texas.
"We are delighted to be back," said event organizer Peter Svendsen. "It seems like forever since we had the last one. But, as you can see from the packed house, the people of Cleburne and the surrounding area are out in force tonight and it's sold out once again.
"We have an evening of wonderful talent lined up. We're all very excited to be back and it's going to be a huge night.
The event brings together top local, state and Nashville talent to the Cleburne stage. Musicians who, in many cases, have written chart-topping hits for national artists.
Svendsen characterized the showcase as the substance of dreams and travels. Dreams for musicians from the region of local renown, the journey for these few artists from Texas and Nashville with the right equipment and the chance of eventual international fame.
As they have done in previous years, the artists not only performed their songs, but also shared the stories behind their creation. The artists, during their pre-concert meal, enjoyed the camaraderie of meeting old and new friends while exchanging stories of life on the road, the joys and difficulties of writing in search of creation and potential hit records, Elvis Presley, Mick Jagger and many more.
Proceeds from the concert benefit the Cleburne Education Foundation, which in turn helps Cleburne ISD teachers, students, and programs through grants.
The idea arose from the guitar draws he attended in Nashville, said Svendsen, who has 42 years of experience in the music business. There, Svendsen said, he saw strangers Garth Brooks, Brad Paisley and others who received worldwide acclaim.
Cleburne musician Megan Campbell and Crowley musician Riley Gilbreath opened the show, both of whom were chosen at the opening auditions a month ago.
"It means so much to be here," Campbell said before taking the stage. "I worked really hard to get here, I worked a lot on writing my songs and I'm just happy to be here tonight to present my music and connect with the other musicians to see how they are doing it. do, make new friends and learn something from them.
Campbell's classic country voice delivered songs of love and heartbreak.
Gilbreath meanwhile delivered old school country, traveling blues numbers, Bo Diddley notes and a banjo showcase exuding a talent that belies his 17 years.
"Believe me, you'll hear more from these two in the future because they're exceptional," Svendsen said.
Texan songwriters Grant Giobert, Cameron Havens and Drake Milligan followed.
"My God, it feels good to be back in Texas," said Havens, from Haslet, who now lives in Nashville. "I have to get Whataburger. Do you know how long it's been? "
After the show, Havens said it was a blast to be back in Texas for the first time in a long time and a pleasure to help a good cause.
The list of famous artists and hits that Nashville artists Brice Long, Mark Nesler and Jeff Stevens have been involved with could fill a book.
Suffice it to say, all three audience members were thrilled with these hits as well as the stories of songs that record company executives predicted would never hit, but kept doing just that, the process. creative songwriting, celebrity friendships and more.
Johnson County Commissioner Larry Woolley, who served as the evening's auctioneer, noted that the night's auction raised $ 33,300 for the CEF. Overall, Nashville Lights has raised over $ 604,000 for the FEC over the years.
"We feel so lucky to have their support," said CISD Superintendent Kyle Heath. "So many people work so hard every year to put on this amazing event. The first of these happened the year before I came here and it has continued to grow and improve every year.
"These concerts are a lot of fun for our community. Most importantly, the amount of money they raise helps support teachers, students and learning at CISD and that's what it is.
CEF grants have made a notable contribution over the years, Heath added.
"Absolutely," Heath said. "In fact, one of their last grants was for a math program at Wheat Middle School. What's exciting is that all kids can use it.
"It's not just those who have difficulty with math, but also something that can help nudge kids whose learning is accelerated. So this is a great way to put this in the hands of our students and CEF has helped make it possible. For this program, the school paid half and the CEF paid half, so it's a great partnership.