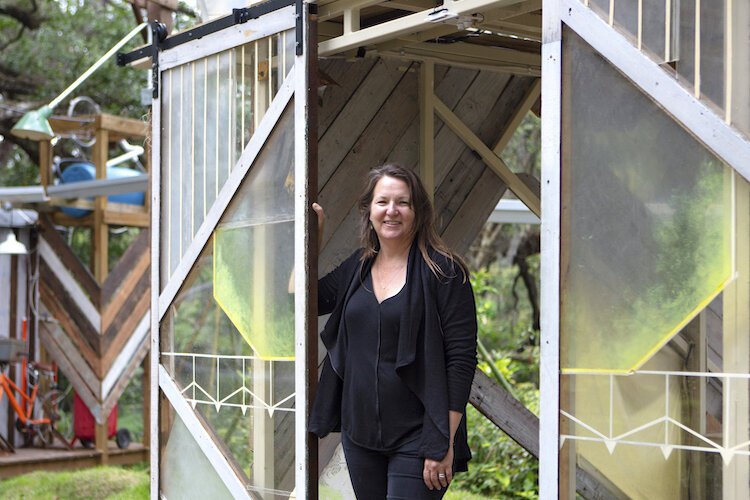 Sarah Howard from USF CAM in Tampa
Artists play a key role in shaping communities and our choices about where we choose to live, work, play and stay. But do we fully appreciate the role of curators, the designers working behind the scenes to display works of art in local museums? This is the fourth of five stories from local curators who demonstrate remarkable thinking, energy and vision in the way we see and react to what we see.
4th in a 5-part series.
There is something about the University of South Florida that inspires community and socially engaged projects. Much as USF alumnus Amanda Poss, who was featured earlier in this series, strives to create a radically inclusive inter-campus exhibition program at Hillsborough Community College, Sarah Howard aims to do the same, but directly to his USF alma mater.
"I think art has many purposes, especially after seeing what we've been through with COVID. It is beyond a simple form of expression; it is a powerful form for communicating difficult ideas by tapping into emotional ways of experiencing the world. It also brings people together to create shared experiences and memories. Public space and art are signifiers of where we are, it shows our values ​​as a society and documents and reflects our contemporary culture, "said Howard, curator of public art and practice social at the USF Contemporary Art Museum.
Like Poss, Howard wishes to expand the museum beyond the gallery walls by working in the community. One of the first projects Howard worked on that was very community activated was that of Pedro Reyes. Amendment to the amendment / (understand) your land, where the cannons had been dismantled and reassembled into musical instruments. As part of the museum exhibition 2014, there was a public participatory project where participants were asked to consider revising or modifying the 2sd Amendment that sparked conversations about gun control.
the Amendment to amendment The exhibit led Howard to his most favorite and ambitious curatorial endeavor of 2016: The Music Box Project. Instead of being just a creation of a solo artist, The Music Box: Tampa Bay was a collaborative work of art brought together with the help of a grant from the NEA to bring the New Orleans Airlift (a nonprofit led by artists whose goal is to produce innovative and exciting community art), national and local artists (such as Janine Awai, Devon Brady, Michael LeMieux and Tory Tepp[SH1] ) in Tampa to work together. This project combines musical comedy with architecture in an environment created by an artist in nature to arouse the wonder and admiration of visitors.
Small "houses" were built at different sites, each encrusted with a construction that allows certain parts to be played like movable floorboards amplified for sound, or windows and doors that resonate when moved. When completed, these musical structures created an accessible performance space for experimental and open play not only for artists and musicians, but also for the public.
"The Music Box project really opened our eyes to how an institution like CAM could step out of their building and do something that brought together many aspects of the community, whether they were artists or members. community, to produce something that everyone can interact with. with, "says Gianna Redina-Gobioff of the Gobioff Foundation, whose mission is to support the arts in Tampa.
Gianna noted that this project was also a milestone for her and her husband Neil Gobioff in their grant making, leading them on the path of creating creative places and funding projects that were more likely to get this community involvement, especially with their Trésor Tampa (T²) Grant.
"With Sarah, she always goes to conferences and learns about the potential to break boundaries and carry out projects that engage the community and get people thinking about current social issues. I really like the way she always evolves with her job and always aware of the issues that are at the heart of the community, "said Gobioff. "This continuing professional development is in her soul, you can tell she is passionate about it."
Another great project undertaken by Howard is to expand USF CAM's public art program by expanding their Public art walking tours to make USF's public art collection more accessible and engage the community at large. A detailed map has been developed as a nice gift to leave in hotels and other places to showcase and elevate part of their permanent collection.
"Accessibility is at the forefront of my thinking. I am also interested in environmental issues, especially since the climate crisis seems more and more important to me every day, "explains Howard. "I see my role as providing a platform for artists, but I think my [curation] the style is to arouse a feeling of discovery in the viewers.
As Howard continues to champion local artists and bring inspiring artwork to the community that is in line with social and environmental justice issues, she hopes to elevate Tampa's arts scene even further by contributing to USFCAM's ambitions. to develop [SH2] a triennial exhibition of contemporary art similar to the Prospect New Orleans model, partnering with other regional institutions to showcase southern Gulf focused works that would be located at different sites all around the community.
"Being a woman and an activist gives Sarah the strength and determination to do things that are outside the box and impact the community," says Gobioff. "Not only does she have a passion for equity and social justice, Sarah also creates experiences that are deeper and beyond traditional artistic experiences of looking at art."
To learn more about the projects Sarah Howard has been involved in, check out the links and videos below:
To learn more about the other curators in this series, follow these links: