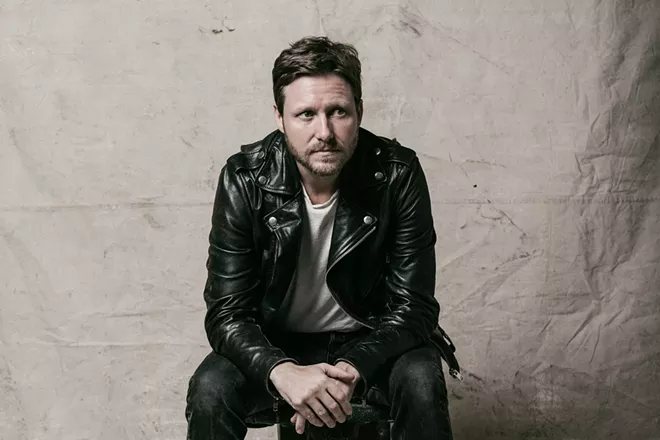 songwriter Cory Branan breaks down the craft behind some of his best songs | Music news | Spokane | Interior of the Pacific Northwest
As a person who has regularly seen Over 100 concerts a year before the pandemic, I think the following declarative statements carry some weight:
Cory Branan is my favorite singer-songwriter to watch live.
Heck, Cory Branan is also my favorite guitarist to watch live.
His approach to hammering the six strings of an acoustic is unlike any other. There's a quick dexterity to his picking, it's great, but it's when he messes up that he really shines. Branan treats his guitar like it's his longtime best friend who may have said a drunken crossword about his wife and now they're in a bar fight. He attacks his instrument, hitting the body and hammering the strings with atypical rhythmic tempos. Even in quiet moments he interrupts the impromptu changes of pace that prolong the quiet moments, then seconds later he rushes to make up for lost time.
And that's all before we get to the fact that he's one of the smartest lyricists around. No singer-songwriter can so effectively distinguish between the sweet charm of the South and the rebellious scoundrel at the cutting edge of technology. That's why I never miss an opportunity to see Branan live, whether it's in folk halls adorned with cow skulls, seedy punk clubs, or even once in the corner of a lobby. hotel in SXSW.
Since his songwriting has always stood out from the crowd, we spoke with Branan about the process behind some of the most notable songs on his discography.
"ANOTHER NIGHTMARE IN AMERICA", ADIOS (2017)
Branan's most acerbic protest song, "Another Nightmare in America," acts as a rallying cry against police violence by adapting the partial perspective of a racist officer. Although it was written years before the murder of George Floyd, its bitter bile still remains relevant today.
"That's it," Branan said. "I wrote it after Ferguson, but it is, unfortunately, quite the hot topic still in this country. I can't wait for it to be irrelevant.
"I was just spitting angry. But I know, as a white southerner, it's not my story to tell, but it's my country and it's a shameful shame. I always wanted to write about it. And so I went, 'I'm going to write it from the perspective of the racist killer cop.' "
It's a biting critique of the American Dream in a similar mold to what Randy Newman did in the '70s with Sail away, but with much more blunt trauma.
"It's kind of a sound experience," Branan says. "I wanted it to be so eye-catching that you'd be tempted to bang your head and not listen to the words. That's why I started without any music and I have this line: 'You're arrogant, little ghost. . "And as soon as you hear that trigger word – arrogance – there is no way not to listen to the lyrics. "
The key is that the song extends slightly beyond the character's simple completely unconscious point of view to present the acts he commits as true horrors.
"Normally, when I do character songs, I completely lean into that character," Branan explains. "I grew up where I grew up in Mississippi, I know these just horrible, horrible mindsets. But it was kind of a gross thing, when I started doing it as a character study. that's when I realized I couldn't do it as a full-fledged character. You can't put poetry in a fanatic's mouth. They aren't. capable, they have no reach.
"THE PRETTIEST SERVANT IN MEMPHIS," 12 SONGS (2006)
On a much lighter note, "The Prettiest Waitress in Memphis" is the song that got me completely hooked on Branan the first time I saw him live ten years ago. At first it's an ode to the fairly simple melodic rock craze to a waitress, but then takes a surprise turn that I saw a crowd full of punks do. literally cheer.
"It's pretty much a guy who meets a girl in a bar," Branan says. "I find that if you work in a cliché format it is loaded with expectations. Like the movie Creation is just a junkyard movie, so they can make a movie into a movie into a movie. Because you know all the shit in a heist movie; we have to go in and get this … It's already loaded with details, so you can screw it up. "
Branan knows there is magic in the song's trick, but also knows he can't type that far too often.
"The whole thing – the pivot at the end – is structurally supported by everything else, you know? Everything leads her to say, 'This will all change eventually. "" Because every line is like, 'a little stack of double quarter hard singles will do terrible things to a smile' or 'she's only gonna be as pretty for a while.' And I'm just trying to. set up the punchline. She said, "I can only do this for so long before this fucking town or this fucking job eats me up." I think that's why people react to the song, because it's like, oh that's a funny little thing, but, oh, there's something real going on here. And then there is the paid side. You know it's a little big (corny voice), Your da!
"I mean, you have to be careful with that stuff because it can be really new," he adds. "It can be like, 'Oh great, Bruce Willis is dead. I never need to see this movie again (Laughs)."
"THE SURVIVING BLUE", POOCH (2011)
Branan sometimes introduces "Survivor Blues" as "my" Born to Run, except the guy and the girl both have pretty big backgrounds, and they know running won't do any good. "
The song resonates with that classic Springsteen-ian rock energy, but with a rough, scarred core. But it's the clever lyricism filled with vivid imagery – scenes of smoke-filled bars, stolen cars, and a bonfire of memories of an ex – that makes the tune transcend.
"I had a picture of a guy and he was outside a bar, and he had TRUE LOVE tattooed on his knuckles, and he was just pounding his knuckles against the wall. (Laughs) It was that. photo of him trying to hammer out his tattoos disabled.
"And so I took it from the bar," he continues. "Again, we're working with the cliché: a guy meets a girl in a bar. And then you start to see that they don't really have that big, huge 'Thunder Road' hope of we will escape this. "
While this is the best example of Branan's songwriting subversion, "Survivor Blues" resonates with him on a deeply personal level as well. Like most of his music, it's about getting through tough times without numbing yourself to reality.
"It's just playing on a cliché. 'What doesn't kill you makes you stronger," Branan said. "And I'm like, 'Well, that's going to make you wish you were dead too.' It'll make you stronger … if you survive it.
"But honestly, that's a big part of my music. It's kind of a thesis statement. (Laughs) It's just trying not to be jaded while not becoming, you know, a dog that go look for the same fucking stick over and over and purposely stoop to doing the same bullshit again. It's trying to set me up little reminders. "??
Cory Branan • Fri, October 29, 8 p.m. • $ 14 • 21 and over • Lucky You Lounge • 1801 W Sunset Blvd • luckyyoulounge.com • 509-474-0511